I purchased "Reggie", a F6C male, for my breeding program from Donna at Summerwood. Being a fellow breeder, I  get many inquires for kittens I can't supply.  I do not hesitate to send them Donna's way. I know they will not be disappointed in dealing with her.  She is extremely knowledgeable, beyond helpful, and only wants the best for her kittens. Summerwood produces Savannahs that have show hall quality looks and fantastic personalities.
Michelle Schwoch
Lakeshore Savannahs – Minnesota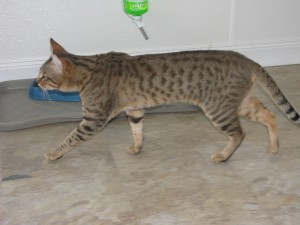 _______________________________________________________________________
I have been interested in the Savannah cat for years, they are such a fascinating breed. I was looking for the right kitten to suit my 4 cat household, one who who exhibit the  beauty and traits of the breed standard, while also fitting in with the rest of the "pride".   I searched for close to 7 years, viewing many breeders websites and learning all I could about this special feline.  In December of 2009  I was ready to start visiting a few catteries to  pick a kitten, the first cattery I looked at had very nice kittens, however I did not feel the the owners had any connection with their cats,  it seemed to simply be a  "business transaction" to them.  I feel it is important for a good breeder to cherish their cats, so I decided to look further.  I had visited Summerwood Savannahs web page many times during the years to keep track of the kittens  that were for sale, since  it was only  an hour away I decided  that would be my next stop.  Donna had sent me a photo of the kittens she had available at the time and I really liked the pictures I saw of  two F4 females she had.  We ended up purchasing  one of the  F4  females who we  named "Eva".  Through the whole process Donna was wonderful, answering all of our questions and letting us visit  her other gorgeous  cats.  Donna  made me feel at ease, she is very knowledgeable and you can tell she really loves her animals.   She is also devoted to furthering the Savannah breed so future  generations can enjoy this wonderful feline.  Eva is the love of our lives, she is absolutely stunning and is a perfect fit for our family.   I highly recommend Summerwood Savannahs and I plan to attain my next kitten from  Donna.
Debi Haas      Illinois
_______________________________________________________________________________
 From the  first time I called Donna for information about Savannahs, up to and beyond my taking a 2nd one home to be part of my family, Donna was more than helpful, friendly and knowledgeable.
Her cats are beautiful, playful and friendly. Her support in answering questions even after I brought the kittens home was beyond expectation. I would highly recommend that anyone that wants one of these amazing animals contact Summerwood Savannahs.
Both  of our Savannahs have so far lived up to everything I have heard or read about the breed, making them loving, fun and loyal members of our family.
I could not be happier about my kittens, or my experience working with Summerwood.
Ray                Illinois
______________________________________________________
Hi Donna,
I wanted to let you know how super thrilled we are with out F6C boy, Coyote.  He is  just the sweetest funniest cat ever.  He has always been so healthy and so social.  He ever tolerates our  1 year old daughter who likes to manhandle him.   For a Savannah he is not horribly mischievous.  He didn't even get into the Christmas tree! He plays well with the dog and even has stolen his favorite toy, a stuffed "Bumble".  He'll play fetch all day and cuddle all night.  I think he thinks he is human and is my human son.  He follows me everywhere ad just wants to be where I am.  We are so very pleased with him.
Jennifer Gray
________________________________________________________
My husband and I first became interested in  Savannahs after seeing them on a television show.  We researched the breed for some time, as our children are still young, before deciding the cats would be suitable for our family.  We had tried contacting a breeder other than Donna and had bad luck.  Then we were visiting a friend near Donna and decided to see if we could visit.  Within an hour we were at Donna's cattery and absolutely fell in love with not only the cats, but Donna's compassion and love of the breed.  We knew we had found the right breeder.  However, we wanted our children to know what it took to get one of these magnificent cats and so made them save money for an entire year.  They raised enough money to pay for  1/3 of the price  so we called Donna back and as luck would have it, kittens were due in just a few more weeks.  Once the kittens were born she sent us pictures and we immediately sent a down payment.  As soon as we could arrange it we went to pick our kitten "Buddy".   A wonderful F6 C male. After having him  for a while,  we decided he needed a partner in crime and tossed around the idea of getting a second Savannah.  I couldn't resist and called Donna again.  We then got Buddy's full sister, Dixy.  I keep in contact with Donna to this day – she is not only the breeder I got my Savannah kittens from, but someone I consider a friend as well.
Mindy and family, WI
_____________________________________________________
Please enjoy some additional pics of a few of our kittens in their new homes.
F2B female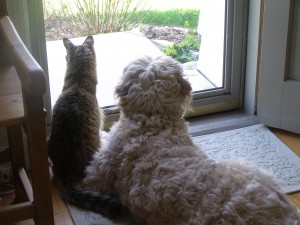 ______________
F3 C female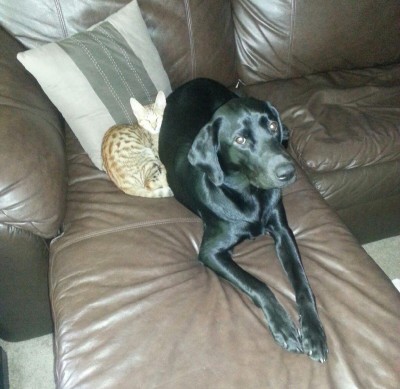 __________
F5SBT female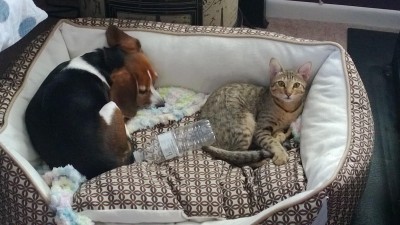 _______
F5SBT male classic pattern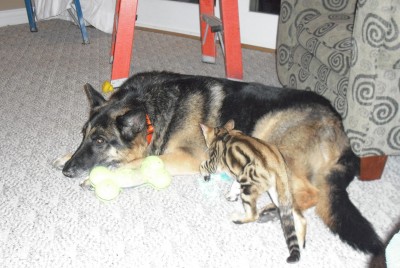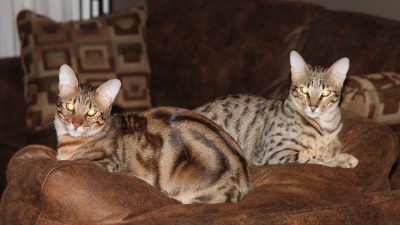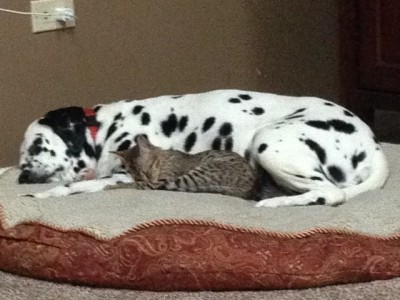 __________________________________________________________________
F2 female and her buddy micro pig.